TOLL-FREE INFO & ORDERING:
M-F: 9am-5pm (PST): (877) RAPID-10

Rapid Learning Member Area:

Note: If you are a legacy user of chemistry24 members, please request a new login access to the premium server with your full name and old login email via vip@rapidlearningcenter.com
Rapid Courses Catalog :
Physics in 24 Hours
Chemistry in 24 Hours
Biology in 24 Hours
Mathematics in 24 Hours
Weekly Physics Tips:
Want to become a top gun in your class? How about study less yet score high? Sign up this Physics Survival Weekly to learn how. Designed specifically for students who are taking physics, this free newsletter will show you how to survive and excel in class! Weekly topics include:
How to Study Physics Effectively
How to Read Physics Textbooks Easily
How to Solve Physics Problems Systematically
How to Score High on Physics Exams Strategically
How to Master Physics Rapidly
Each week, you will receive study tips on the topics above and visual tutorial or study template to enhance your physics learning. Enter your name and email below to subscribe free:
Note: For course links to launch, disable popup blockers or hold the ctrl key while clicking the link.

Home

»

Calculus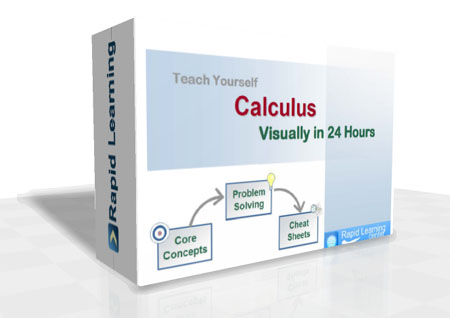 The entire rapid learning package includes:
24 Core Concept Tutorials (Flash Movies)
Concept maps, easy introduction to the topic, concept illustration with annotations and animations, sample problems exlained with step-wise strategies and topic summary.

24 Problem-Solving Drills (Flash Games)
Feedback based Quizzes, concept-based problems, summary reviews on all problems and scoring system to track performance.

24 Super Review Cheat Sheets (PDF Printables)
One cheat sheet per topic, key concepts in a single-sheet, at-a-glance review of each topic and both printable and luminatable. Ideal for exam prep quick review.
Bonus:
Master Cheat Sheet – The entire course in six-page ($12)
Free Preview:
To preview the core tutorial, problem drill and cheat sheet on Anatomy and Physiology 24-hour series, click the link below to get instance access.

Free Access to the Preview Area

---
Calculus Core Tutorial Series
This series provide simple yet easy-to-understand tutorials in flash movies for core concepts in mathematics – the ones that are fundamental yet difficult to master.
Core Unit #1 – The Introduction
Core Unit #2 – The Prerequisites
Core Unit #3 – Functions, Graphs and Limits
Core Unit #4 – Differentiation
Core Unit #5 – Integration
Core Unit #6 – Polynomial Approximation and Series
Core Unit #7 – Analytical Geometry